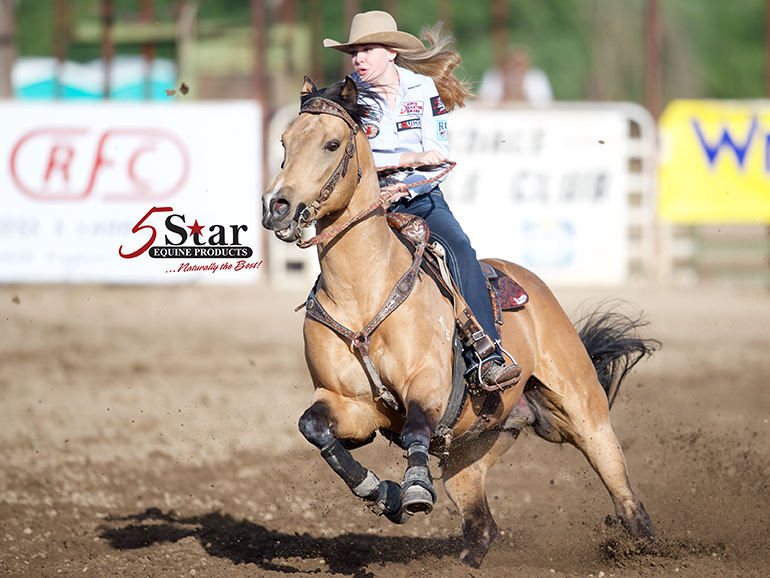 Jackie Ganter lives in Abilene, Texas. Jackie didn't start out barrel racing. She rode English until she was about 12 yrs. old. She won every show she ever went to on her pony, Dixie, and she had to be retired so Jackie decided to start running barrels like her mom. "She had always ran barrels so I had the best trainer you could imagine." Jackie is currently competeing on Cartles Fame, Frosted Shares, and Marthas Sixshooter. We asked Jackie how she mentally prepares herself for competition. She stated, "I try to stay relaxed and just focus on my horse and how i need to ride whichever horse I am running right then."
Jacke's TIP: Knowing your horse is the best thing you can do for them to keep them at the top of their game. Know when something is off and help them.
Rodeo News article: https://rodeonews.com/on-the-trail-with-jackie-ganter/
Red Bull Athlete: https://www.redbull.com/us-en/athlete/jackie-ganter
Career Highlights
2019 Highlights
• Finished the year ranked 21st with $61,417
• Won Dawson Creek (BC) Exhibition and Stampede
• Finished second at Strathmore (Alberta) Stampede
• Finished second Ogden (UT) Pioneer Days
• Finished second at the Nicola Valley Pro Rodeo (Merritt, BC)
• Finished second at Innisfail (Alberta) Pro Rodeo
• Won the Redding (CA) Rodeo
• Finished second at Red Bluff (CA) Round-up
• Won the Stampede at the Ike (West Monroe, LA)

Career Highlights
• 2018 - Finished 48th in the world with $2,578
• 2017 - Second at the Guy Weadick Days Rodeo (High River, Alberta), at the Sundre (Alberta) Pro Rodeo, at the Medicine Hat (Alberta) Stampede and at the Horse Heaven Round-Up (Kennewick, Wash.); Finished third at the Pendleton (Ore.) Round-up
• 2016 - Was ranked inside the top 5 of the WPRA World Standings all season long. Entered the Wrangler NFR ranked second and ended the year ranked 7th in the World with $169,541. Placed in two rounds and won $53,154 at the NFR; qualified for the Canadian Finals Rodeo; won her first Champions Challenge title in Cody, Wyo., High Prairie (Alberta) Elks Pro Rodeo, Medicine Hat (Alberta), Teepee Creek (Alberta) Stampede and Airdrie (Alberta) Pro Rodeo
• 2015 - Entered her first Wrangler NFR ranked 12th and move to eighth in the world with $164,780; finished second in the average with a total time of 141.07 on 10 runs; placed in four out of 10 rounds and won the WPRA Rookie of the Year title; Won the Cowboy Capital of the World PRCA Rodeo (Stephenville, Texas); Finished second in the West Texas Fair & Rodeo (Abilene, Texas); Won the IPE and Stampede (Armstrong, B.C.); Finished second at Heart of America PRCA Rodeo (Beggs, Okla.); Won Kansas' Biggest Rodeo (Phillipsburg, Kan.); Finished second at the Deadwood (S.D.) Days of '76 Rodeo; Won Wainwright (Alberta) Stampede; Finished second at Sundre (Alberta) ProRodeo; Won the Clark County Fair and Rodeo (Logandale, Nev.); Tied for second at the Butterfield Stage Days PRCA Rodeo (Bridgeport, Texas); Won the Rio Grande Valley Livestock Show & Rodeo (Mercedes, Texas) - first pro rodeo win of her career; Won WPRA Slot Race at the WPRA World Finals aboard Guys French Jet
• 2014 – Won the WPRA Junior World Title.
Awards
---
• 2015 WPRA Rookie of the Year Title
5 Star Recommendations
Videos