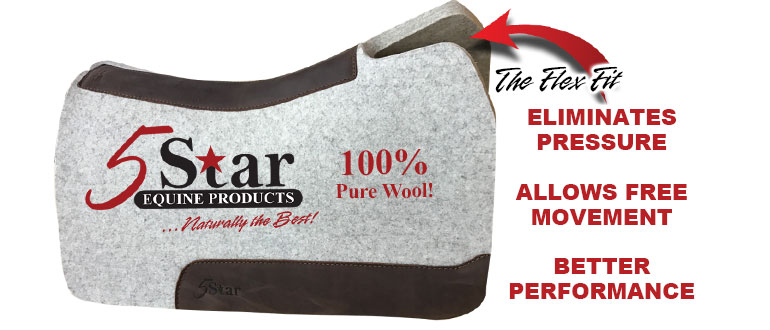 Flex Fit
We are very excited about our newest 5 Star design! As always, we only use 100% PURE wool felt in the production of our 5 Star Pads. The new design is appropriately called the Flex Fit.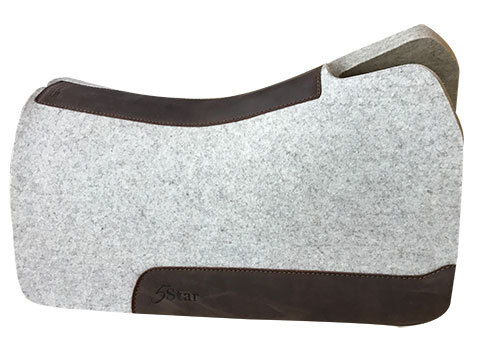 What the Flex Fit allows, with its new design of a cut-back in the gullet area at the front of the pad, is the elimination of pressure on the wither area. With most pads, if the pad is not pulled up off of the wither before cinching, it will apply a certain amount of pressure on the wither top line. When this happens, the horse will try to compensate with its shoulders trying to relieve the pressure itself. This will result in your horse's shoulder not being able to move as freely as possible.
The result from having too much pressure on the wither is that your horse's shoulders will not move freely. This will affect how well your horse is able to move which in turn can affect other parts of your horse's body.
If you ride for long periods of time with too much pressure on top of the wither your horse could get sore on the wither area. Also if a horse has to continually compensate or move away from the pressure, it could result in SORE BACKS, SORE HOCKS, or SORE SHOULDERS. This could potentially lead to time off, vet bills related to injections, or chiropractor visits. These potential issues could be helped by eliminating the pressure on top of the wither.
What are some results you can have with the use of a 5 Star 100% PURE wool Flex fit saddle pad?
It will eliminate pressure along the top of horse's wither.
Allows your horse to move more freely.
Eliminates potential sore shoulders, hocks, backs.
Allows horse to perform better.
Eliminates readjusting saddle (will not have to stop and re adjust saddle and pad to free up the withers).
Results in a happier and more comfortable horse.
All of the benefits that come with any 5 Star 100% PURE wool contoured pad:
Eliminate heat buildup
Practical
More Flexible
More durable
Easy to clean
Better protection
Functional
Absorbs 3 to 4 times more than cheaper pads
More comfortable
Eliminates double padding
Available in several styles and sizes.
Available in 1/2" to 1 1/8" thicknesses
The best investment to help protect you horse's back
Many, many satisfied customers!
Available on any standard pad as an add on option when customizing!