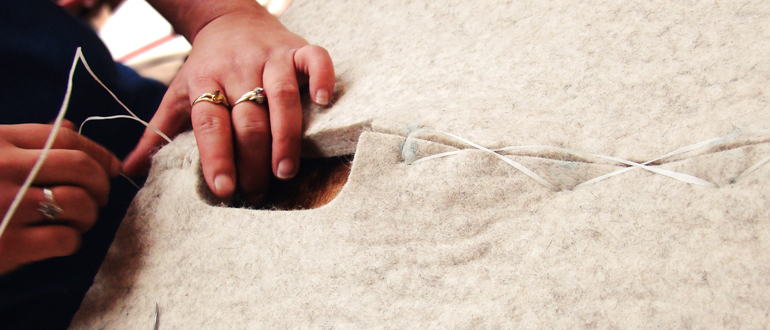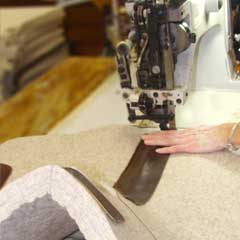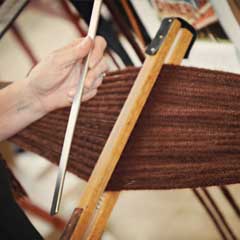 At 5 Star Equine Products, we have built the company on the premise of quality materials and unapparelled craftmanship. We only use the finest 100% pure wool in the manufacturing of 5 Star pads. We employ talented craftsmen and women that are dedicated to quality in the finest details every step of the manufacturing process. We have a vigorous quality control process, and we will only send out product that meets our high standards.
While 5 Star has not wavered from our high-quality standards, we have developed a wide array of colors and styles over the years. 5 Star offers our 100% wool in 10 beautiful color options: natural, cinnamon, dark chocolate, black, turquoise, pink, purple, royal blue, red, and burgundy! We also have a full line of wear leathers options to choose from including basic, stamped, hair on hide, and our new line of printed artisan leathers! No matter if you are a Barrel Racer, Roper, Reiner, or All Around rider we have a wool color and leather combination to suit your needs.
5 Star doesn't just stop at leathers, we also offer several standard embroidery options as well as a custom embroidery option. Send us your design or brand, and we will get a custom quote put together for you. And why stop at embroidery? Add a little bling to your design with our selection of 100% genuine Swarovski crystals! If you prefer a more subtle approach, 5 Star offers spots in silver, antique and brass to trim out your wear leathers or buck-stitch in a wide array of colors to coordinate with your pad and wear leather choices.
In addition to all of our many options to truly customize your 5 Star pad to your personal style preference, we offer award pads for your event. When you order 4 or more award pads with custom award embroidery, you will receive 25% off your award pads! Contact one of our dedicated sales representatives to customize your award pads for your next event!
From the very beginnings of our company, 5 Star has been dedicated to quality materials and craftsmanship to create a product that offers the best protection for your horse's back. As we continue to offer more options to customize your 5 Star pad, we stand strong in the belief that we will never compromise our quality!
Jodie Mesko
5 Star Equine Products

Subscribe to our newsletter to read more educational, emotional and heartfelt stories about 5 Star Equine Products, our team riders, and horse enthusiasts like yourself!