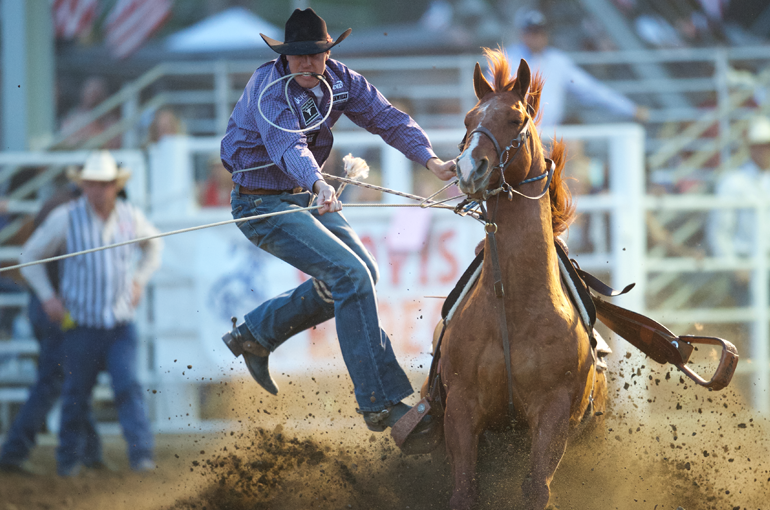 Timber was born and raised in Denton County, Texas, 12 years after his father, the late Gordie Moore, moved there from British Columbia to start a cutting horse operation. Timber could have gravitated to cutting, but his whole family was also involved in rodeo.
He qualified for the National High School Rodeo Finals while a senior at Ponder (Texas) High School and then went to college in Weatherford and Stephenville, Texas. While at Weatherford, he finished as the National Intercollegiate Rodeo Association reserve champion in 2005 behind Ryan Watkins who is also roping at this year's WNFR. Then he moved to Canada.
Canada was good to Moore as he won the Canadian Professional Rodeo Association (CPRA) Rookie of the year in 2007, two years after his father passed away. The next year he and his wife Valerie oved back to Texas and his quest for a Wrangler NFR began in earnest. He finished in the top 30 for three years before his first qualification in 2011.In 2012 tore his ACL while at home playing basketball and missed a year of competition. He was back in Vegas in 2013 and is looking forward to his third trip to compete in the Thomas and Mack Center. 2013 also marked another milestone as he earned the CPRA championship.
Career Highlights
Won 2014 Rodeo All-Star (Denver, CO)
Placed in two rounds at 2013 National Finals Rodeo
Won 2013 Canadian National Finals (Edmonton, Alberta)
Won 2013 Gordie Moore "Bubblegum" Memorial Roping (Stephenville, TX)
Placed in four rounds at 2011 National Finals Rodeo
Won All-Around at 2011 Farm-City ProRodeo (Hermiston, OR)
Won 2010 All-Around at St. Paul (OR) Rodeo
2007 Canadian Professional Rodeo Association Rookie of the Year
Three-time National Finals Rodeo Qualifier (2011, 2013, 2014)
5 Star Recommendations
Add links to recommended products here